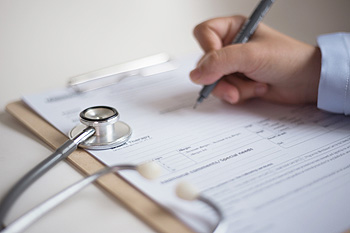 While complications of diabetes, such as poor circulation and neuropathy, can make a wound easier to develop and harder to detect and heal, there are many preventative measures you and your podiatrist can take to reduce your risk of amputation. On your end, make foot care a priority. Wear shoes and socks that fit well and don't rub against any part of your feet or cut off circulation. Avoid walking barefoot. Elevate your feet and wiggle your toes frequently to keep the blood flowing. Eat a balanced diet and exercise to help manage your sugar levels and maintain a healthy body weight. Don't smoke. Inspect your feet twice a day, using a mirror if needed, to see the bottom of your feet. Get to your podiatrist right away if you spot anything unusual. Early recognition/treatment of a problem can greatly reduce your risk of amputation. Some wounds may be avoided by getting regular foot screenings and having a podiatrist trim your toenails and treat any corns or calluses. They may also prescribe diabetic shoes and create custom orthotics to prevent foot injuries. If a wound does develop, your podiatrist can dress your wound appropriately, remove dead skin and tissue (debridement), reduce pressure and friction on the wound, and help restore adequate blood flow. They can also advise you on how to properly care for your wound at home. In cases where a higher level of wound care is necessary, your podiatrist may be able to use skin or bone grafts, or perform reconstructive surgery to replace or rebuild infected or necrotic bones, tendons and tissue.
Limb salvage can be an effective way in preventing the need for limb amputation. If you have diabetes, cancer, or any other condition that could lead to foot amputation if left unchecked, consult with one of our podiatrists from Toe-tal Family Footcare Associates. Our doctors will assess your condition and provide you with quality foot and ankle treatment.
What Is Limb Salvage?
Limb salvage is the attempt of saving a limb, such as the foot from amputation. Podiatrists also try to make sure that there is enough function in the foot after the salvage that it is still usable. Diabetes is the number one cause of non-traumatic amputations in the United States. Those with diabetes experience poor blood circulation, which prevents proper healing of an ulcer. If the ulcer is left uncheck, it could become infected, which could result in the need for amputation.
However, there are other causes as well, such as cancer and traumatic injury. Links between higher mortality rates and amputation have been found. This translates into higher healthcare costs, and a reduced quality of life and mobility for amputees. Podiatrists have attempted to increase the prevalence of limb salvage in an attempt to solve these issues.
Diagnosis and Treatment
Limb salvage teams have grown in recent years that utilize a number of different treatments to save the infected limb. This includes podiatrists that specialize in wound care, rehabilitation, orthotics, and surgery. Through a combination of these methods, limb salvage has been found to be an effective treatment for infected limbs, and as an alternative to amputation. Podiatrists will first evaluate the potential for limb salvage and determine if the limb can be saved or must be amputated. 
If you have any questions, please feel free to contact our office located in Vista, CA and Las Vegas, NV . We offer the newest diagnostic and treatment technologies for all your foot care needs.
Read more about Limb Salvage